Home
History
Elected Officials
Boards and Committees
Business Listing
Town Ordinances
Meeting Calendar
School(Perry Mustangs)
See the Sights!
Tax Maps



Town of Perry
P.O. Box 430
898 U.S. Route One
Perry, Maine 04667
*** Special Town Meeting***
There will be a special town meeting on December 1st, 2015 at 6:00pm at the Perry Elementary School to vote upon the following item:
Shall the Perry School Committee be authorized to expend not more than $44,933 from the Town of Perry's undesignated fund balance in order to pay for unanticipated additional regular education and food service costs during the 2015-2016 school year; and shall the amounts appropriated for the Town of Perry's FY 2015-2016 school budget at the school budget meeting conducted on August 18, 2015 be increased as follows:
Article 5: Regular Education Program: From $901,036 to $940,969.
Article 15: All Other Expenditures: From $104,090 to $109,090.
Article 18: Budget Summary: From $1,622,690 to 1,667,623.
To read the official Special Town Meeting Warrant click
HERE.
---
School Board Meetings are the first Wednesday of every month at 6:00pm at the Perry Elementary School.
Policy for Third Party Requests

Due to the rising number of third-party requests (requests for contributions) and requests for increases in the amount to be funded, the following policy has been adopted:

All third-party requests will require a sponsor to circulate a formal petition to be signed by a number of voters equal to 10% of the number who voted in the last town gubernatorial election. For 2015, that number will be 41 signatures. This petition can be downloaded or printed by clicking here:
Third Party Petition.
All third-party requests will be required to provide a written statement of what they have done to benefit the town or public in the past and what they will be able to do in the future.
Third party petitions must be submitted to the Town Clerk no later than June 30th, 2015 in order to be included in the warrant articles at the annual town meeting.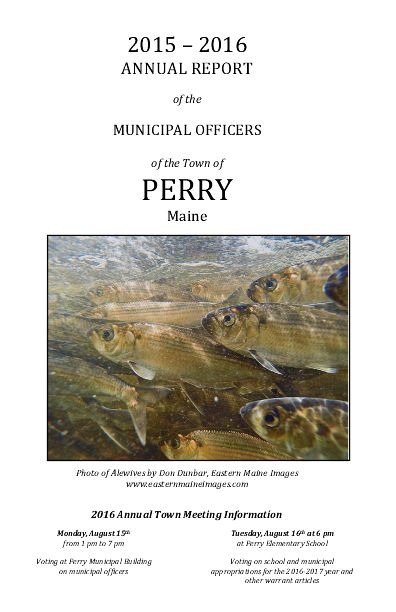 Click Here to read the Annual Town Report.